Check the fuse on the bottom side, near the mains electrical (only PM 400/500 – PM Micro has no fuse!)
Check also the cable on this holder, it might have bad or oxidised contact!
USE 2A T (slow) FUSE
DO NOT USE LARGER OR FAST TYPE OF FUSE!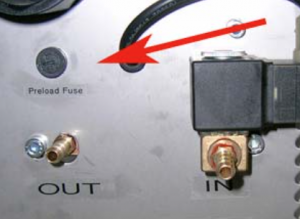 Check, if one or more modules of the surge suppressors are red/defect. Replace the red modules.
NOTE:
These surge suppressors are only built in to the latest PM models (from 2009).
ATTENTION:
Do not bridge the signalling contacts and run the machine with defective red modules because they no longer protect the system from voltage peaks!!!
If the modules are defective, check the main supply. Measure and check all voltages between the phases and all phases to earth before exchange the modules and restart the machine.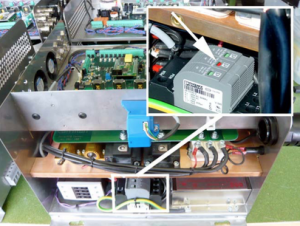 Make sure that you do all the actions with the necessary care and that all manipulations and measures are done by a certified electrician and with a well insulated multimeter! However do not manipulate inside the unit before the front panel display shows a low U batt (<24V)-(condensator battery voltage)!

With main switch on, switch on the inverter and monitor the charging of the battery voltage (Ubatt).

If battery voltage does not at all increase, you may check the function of the "small precharge relay" and its output on the main board.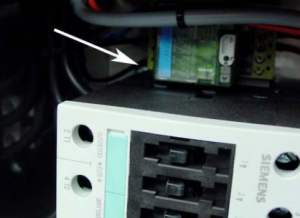 There is an LED (LD25) on that output showing the state of this output. If the precharge relay doesn't react you may check the wiring.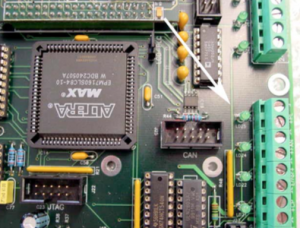 If the battery voltage increases, but the "precharge time out" appears while the voltage is still increasing, it could be that.
a) a phase is missing or has an "under voltage", therefore you should check the voltage of all three phases (also to ground!)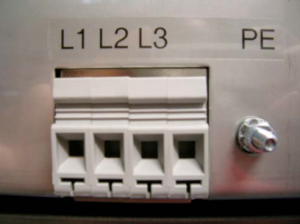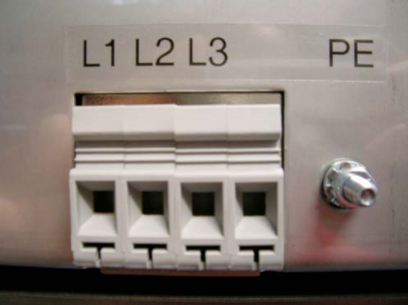 b) it could be that the rectifier (1) or even worse a condensator or an IGBT (2) is malfunctioning.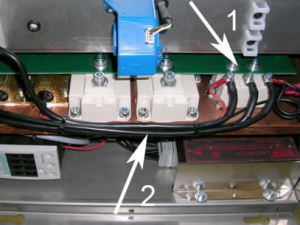 Measure the actual battery voltage and compare it to the display (Ubatt). (ATTENTION: Switch off the unit and wait 'til the battery voltage is low, before you remove the front cover!). The voltage could be beyond 550 Volt DC, so please use a voltmeter, which has the necessary range. The terminals are on the left top (usually red and blue coloured).
If the voltage shown on the display does not correspond to the measured voltage, it can be adjusted with the potentiometer.
During loading, check the LED on the power board, which connects to the condensers. Are they glowing up at the same time? After loading are LED's still on?
If not one more condensers might bad or defect!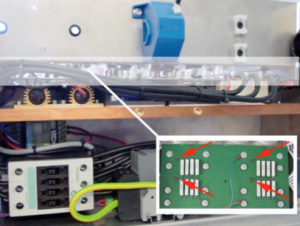 ---