I have problems with the settings of the sensors B19, B24 and B78 (Nonstop downstacker version)
NOTE:
The positions of the screws for the sensors B19, B24 and B78 have been set in the factory, and should not be adjusted. If something has changed nevertheless, you should follow the detailed description below.
Three sensors are located on the right near the feeder drive M8.
Sensor B19 (left) controls the vacuum valve of the suction beam.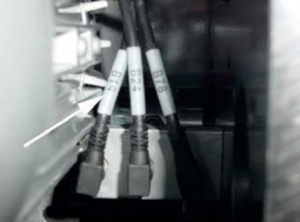 After "breaking" the vacuum, the position of the screwhead for the sensor B19 must be active. Therefore the position should be chosen between "breaking" the vacuum and the lowest position of the sucker unit while traveling down.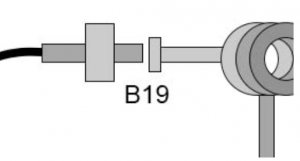 The correct setting for B19 – active, should give you distance of approx. 25mm from center of the hole to the block.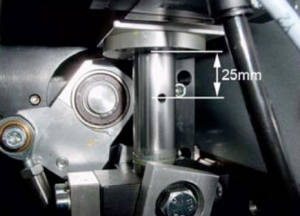 B24
A hexagonal screwhead activates the sensor B24 (center), which then opens the channel flap.
NOTE:
The opening time of the channel flap, can be
extended through software (see Chapter 4.5.2. in Book 1)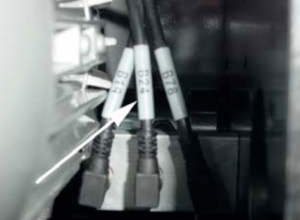 B78
A hexagonal screw activates the sensor B78 (right), which provides the timing for the feeder (synchronization)!
NOTE:
This signal comes from the PLC in the elevating platform version, so no B78 is used in such an application.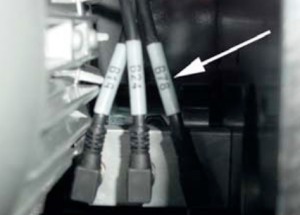 The "active"position of the screwhead for the sensor B78, can vary depending on the rollforming speed.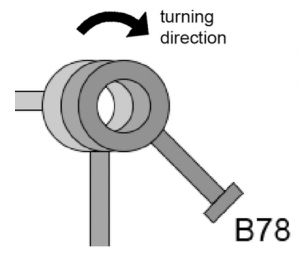 The signal of B78, always follows the signal of B24, that means that the flap must be closed (B24), before the body pusher starts (B78). The distance, resp. the angle between the two screwheads is fix (at approx. 25 – 45°).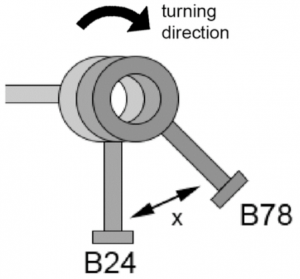 B19 B24 B78
The correlation of the three screwheads. View from toward the electrical cabinet. This setting is based on:
Can diameter 66 – 99mm
120 cans/min
Rollformer speed of 190m/min (49.5Hz)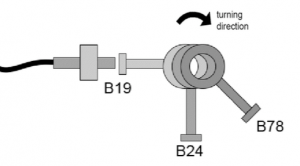 With a higher rollforming speed, or if the blanc feeding is too late, or you get a damaged blank beginning, you have to move both screwheads slightly clockwise.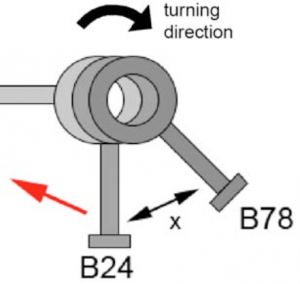 With a lower the speed of the rollformer and jams the blanks from the backtravelling body pusher, you have to move anticlockwise.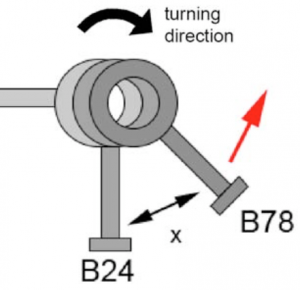 NOTE:
Make sure that the "activator" screws are tightened and locked and not touching the sensors.
NOTE:
A wrong setting of one of the sensors (B19/B24/B79) will not show a direct related error message.
An incorrect setting of B19 will cause destacking problems and the incorrect setting of B24 & B79 will cause synchronization problems.
---