NOTE:
The value of t2 and t1 needs to be smaller as the cycle of one single can.
For example:
A production of 300/min. corresponds to a cycle time of 200 ms/can. Production of 600/min. corresponds to 100ms/can.
NOTE:
For a more detailed explanation of timing t1 and t2, consult your manual book 2, chapter 5.6.5. "Setting of Parameter t1 & t2 for reduced Current and Overlap Check".
Cause 2:
Check the inductive proximity switch B64 at the final pusher unit for function, operating distance and defect.
Final pusher (Synchrostar II): Sensor B64.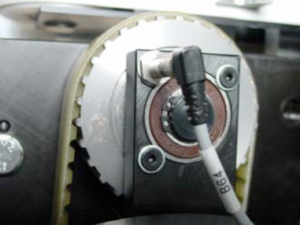 Description:
Inductive proximity sensor for embeddable mounting.
Polarity: PNP
Output: NO. or NC.
Operating distance: 2mm